Celebrate Your Other Alma Mater. Free Shipping for Orders Over $50: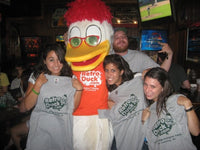 Brought to you by RetroDuck:
Hatched at Mayo Hall in 2003 before finding our home in Downtown East Lansing, RetroDuck has been printing t-shirts nearly as long as this year's incoming class has been alive. We have nearly two decades of designs from The Riv, Rick's, Beggar's, Roadhouse, Crunchy's, etc. We look forward to sharing them with you. $5 for each shirt goes directly back to the bars, restaurants and stores.